The webinar on flexible ureteroscopes for the treatment of upper urinary tract calculi conducted by the International Urolithiasis Union (IAU) was successfully concluded on March 6th.

IAU is one of the largest international academic & professional organizations in the field of urolithiasis in the world at present, and it was founded by Prof. Zhangqun Ye, Prof. GuohuaZeng, and Prof. Kemal Sarica in 2012.
---
Not only did China's top urology experts participate in this webinar, but also many urology experts from Britain, Greece, Denmark, Turkey and other countries participated. Also, there were academic lectures and lively discussions on hot and difficult issues in the field of flexible ureteroscope lithotripsy.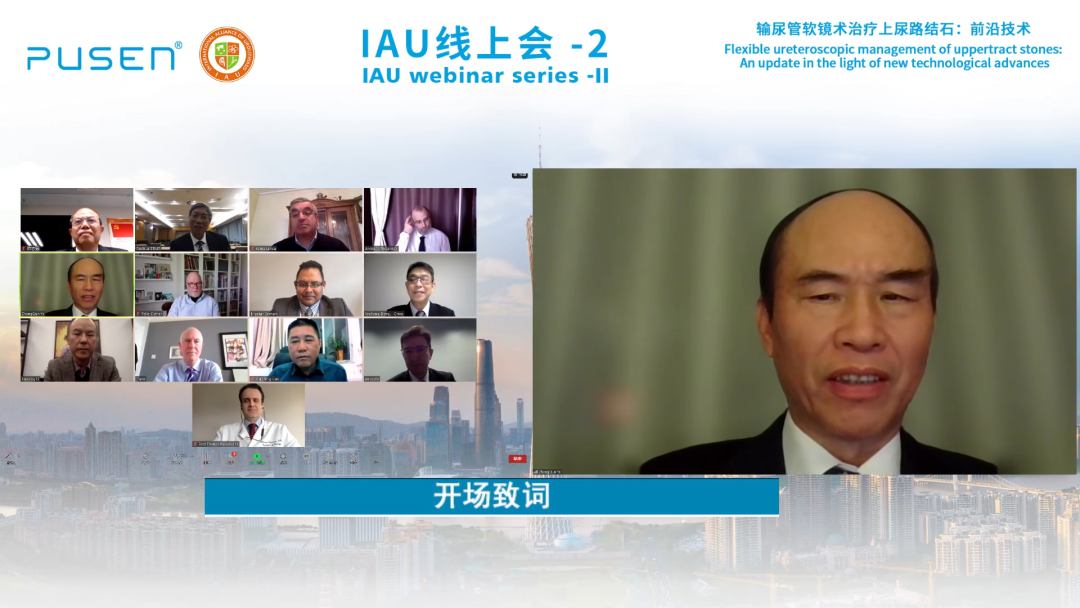 It is well known that flexible ureteroscopy(fURS) is widely used, and its indications are as follows :
Diagnostic indications:
Abnormal imaging findings - Filling defect

Obstruction - Determination of etiology

Unilateral essential hematuria

Localizing source of positive urinary cytology results, culture results, or other test results

Evaluation of Ureteral injury
Therapeutic indications:
Endoscopic lithotripsy

Retrograde endopyelotomy

Incision of ureteral strictures

Improvement of calyceal drainage

Treatment of calyceal diverticular lesions

Treatment of malignant urothelial tumors

Treatment of benign tumors and bleeding lesions
As early as 1998, Grasso and colleagues reported the outcomes of large renal stone patients receiving retrograde ureteropyeloscopic treatment with an overall stone free rate(SFR) of 93.0% and complication rate of 5.9%. Subsequent publications supported this primary result and Prof. Athanasios Papateoris demonstrated similar successful management with a series of successful cases of PU3022A in the treatment of large stones through video. With advantageous bending performance, superior imagequality, stone clearance rate and ease of use, PU3022A, an innovative and intelligent single–use flexible endoscope, is highly praised by urologists.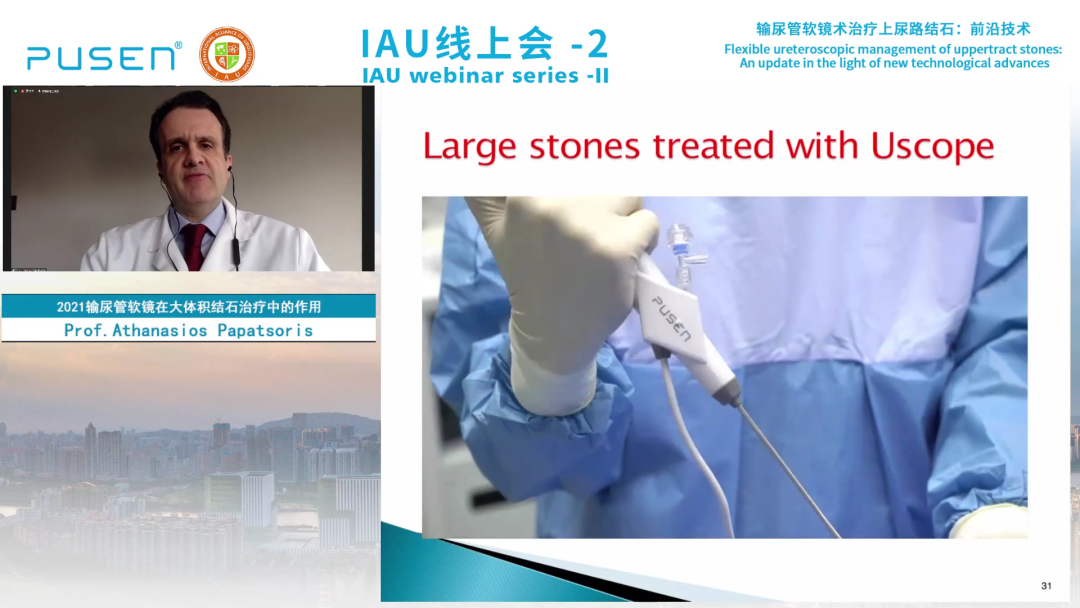 Advanced Urology & Best Urologists & PUSEN
Single use flexible ureteroscopy: Applications and realities- in which cases and why?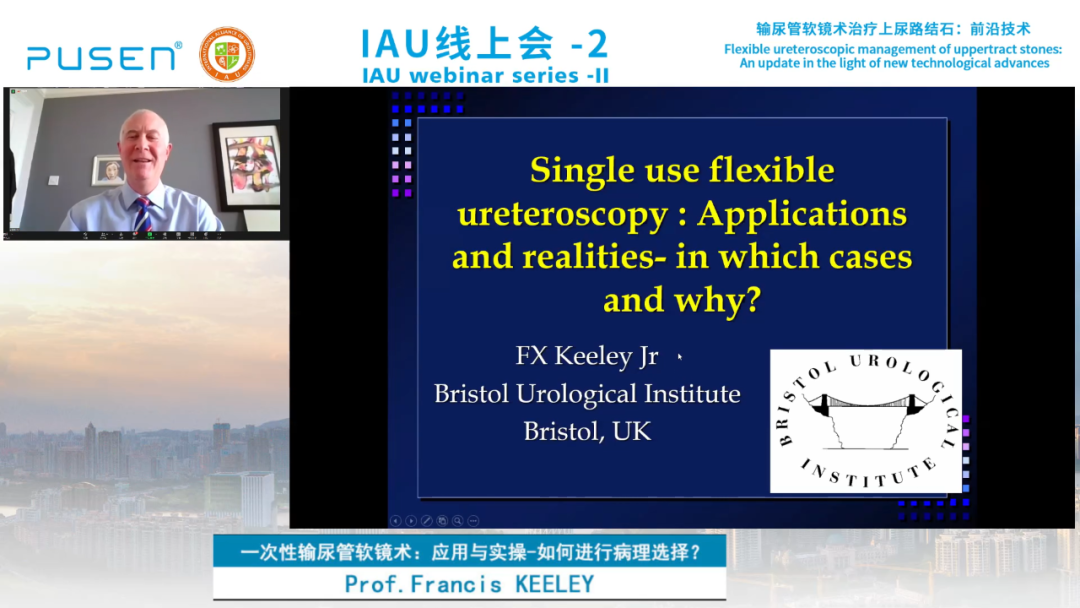 In recent years, single-use fURS have been developed to overcome some disadvantages of the reusable scopes. These include the purchase and repair costs of reusable devices and issues relating to sterility, including the risk that complete sterilization procedures will reduce the scope's lifespan.
Indications for Single Use are as follows:
High-risk of damage, infection

Larger stones

Complex, infected stones

Stents, nephrostomies

Difficult to reach calyces

More bends with a laser fibre ( Conduit, medial lower polecalyx)

The role of fURS for the management of large stones in 2021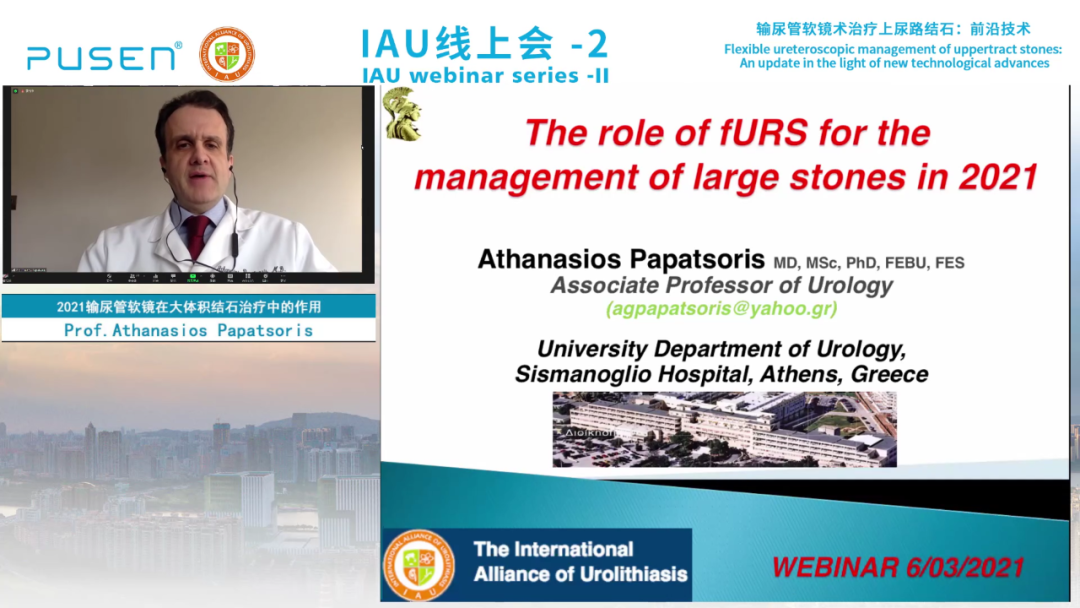 Staged fURS is a practical option for kidney stones 20 to 40mm. Miniaturized percutaneous nephrolithotomy(mini PNL)combined with fURS should be considered to be a preferred option for stones larger than 40mm. Moreover, URS is an effective treatment for multiple upper urinary tract stones. Especially for patients with a stone burden < 20 mm,URS is a favorable option that promises a high stone-free rate after a single session either unilaterally or bilaterally. However, for patients with a stone burden ≥ 20 mm, a staged operation should be considered to achieve stone-free status.

Complications-Ureteroscope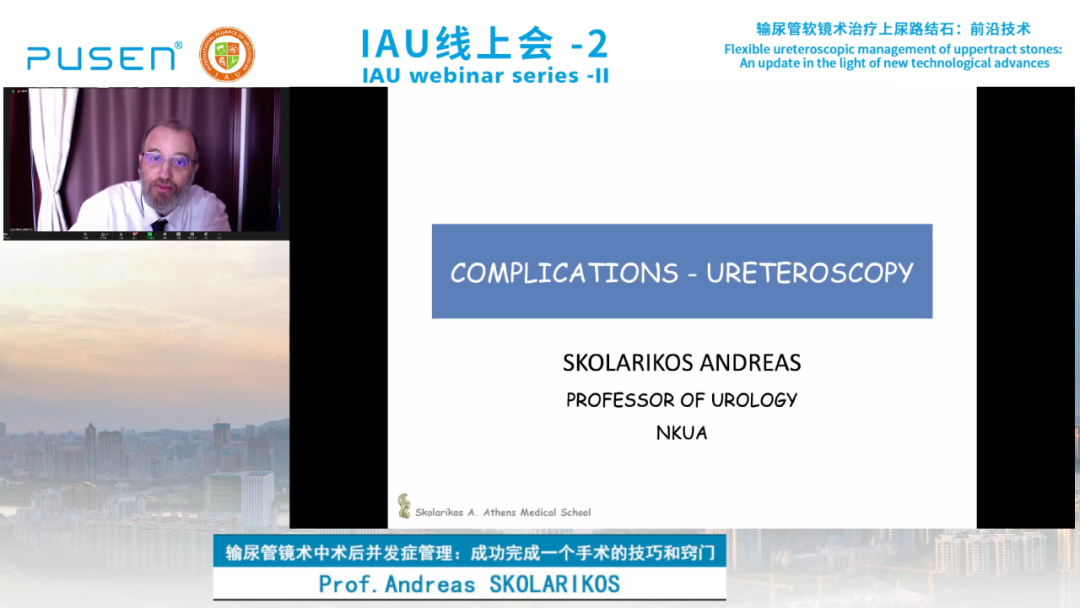 The complication rate of fURS treatment for urolithiasis was reported in the range of 7 -15%, and major complication occurred 0-2%.
Failure to Access:
Infection and Fever:
Negative preoperative culture-Preoperative Antibiotics

Low intrarenal pressure

Usage of 12/14F UAS

Sort Duration

Perioperative antibiotic prophylaxis

Bleeding:Optimal Technique - Carefull use of laser

Flexible ureteroscopic stone management in children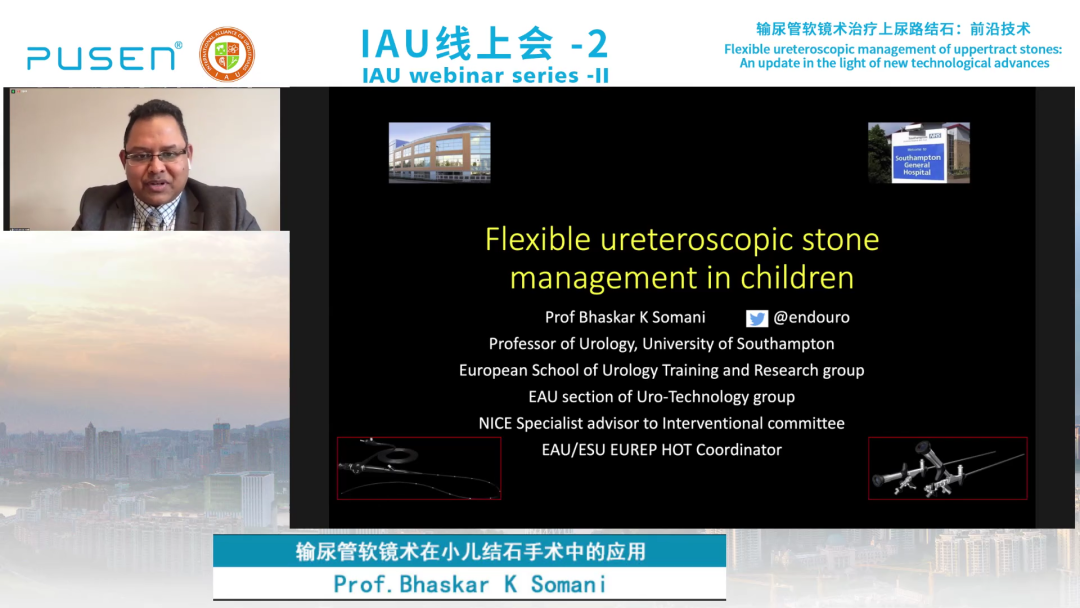 Urine culture, up to date USS imaging

Antibiotic prophylaxis

Cystoscopy and safety wire insertion

Semirigid URS (4.5F) over a working guidewire

Access sheath (9.5F)/ Flexible Ureteroscopy (7.5F)

Keep irrigation pressure and operative time low

Post op overnight ureteric catheter (or no stent)

Role of RIRS in endoscopic combinedstone management: What are the proposed advantages?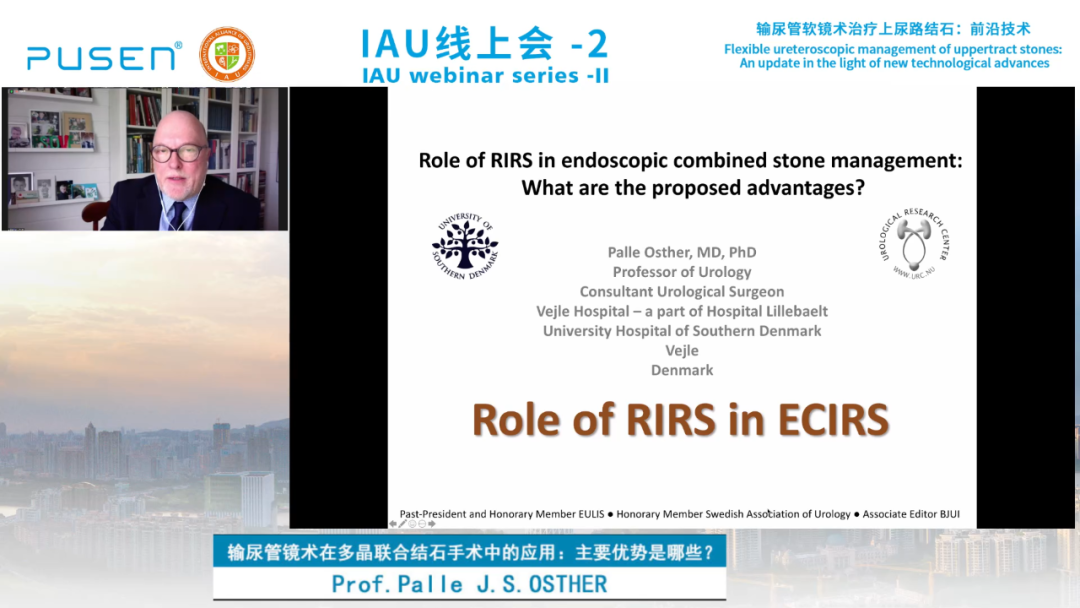 Indications for endoscopic combined intra renal surgery (ECIRS)
Borderline cases in which RIRS may be enough

Complex calculi: avoiding multiple punctures

Calculi in parallel calyces

Simultaneous ureteral and renal calculi

Ureteral/renal calculi & strictures in urinary diversions

Massive incrustations/stones on stents

Cases in which endovision guidance of puncture and dilatation are desirable
Robotic Assisted Flexible Ureterorenoscopy ( RA-FURS)
Ergonomics of the surgeon during the procedure!!

Performance of long lasting procedures in "large complex"and "multiple stones" without getting tired and loosing necessary attention!!

Ease of endoscopic combined approaches in a practicle and team work manner

Use the "flexible scope" always in a straight, unbended position will certainly improve its life.

Enabling the control of "laser fiber" in an automatic but precisely manipulated fashion

Management of large (< 25 mm) and multiple stones in apracticle and successful manner.
How to improve stone-free following RIRS
Stone-free rates for RIRS varied widely in different-size stone, were reported in the range of 43.4-100%.
Interventions for promoting the stone free after RIRS:
Basketing

RIRS with suction UAS
Interventions for promoting the stone free after RIRS:
High fluid intake

More physical activity

Medical expulsive therapy

External physical vibration lithecbole (EPVL)